Post with 26 notes
Thanks so much! Ive gotten quite a few questions like this, it's about time I answered them aaaaaah. I've had a lot of inspirations. No one's art style comes naturally unless like, they live in a small room alone with now tv, books with pictures, or any sort of advertising hahaha. I study lots of art styles to try and get better and better, but my biggest influences by FARRRRRR, like, the building block stuff that made me draw the way I draw today back when I was 10 are 
Butch Hartman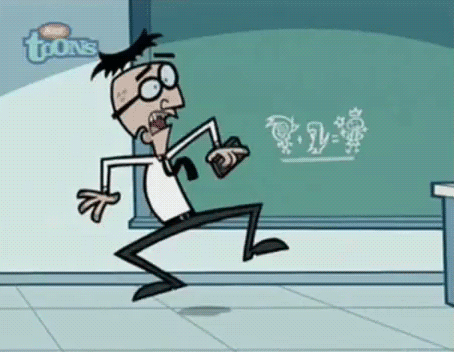 (I literally watched this episode once a day or more all through 4th grade, pausing it over and over to copy screencaps)
and Rumiko Takahashi
(I own all 92 books of both these series combined, plus pretty much everything else the artist has done except Lum:UY. Soon…)
Of course, I've had plenty since then, just not as strong of ones. I have to say that Rob Guillory has been a huge influence lately. Drawing those extreme expressions and cartoony coloring the way I always wanted to, but better. *dreamy sigh*
SO yeah! The noses and eyes in my art I can trace back all the way back to Fairly Oddparents~ The eye size and the gestures came later with Ranma 1/2 and early InuYasha, and everything along the way has given way to the zanier faces. 
Hope that answered the questions! :D
Audio post reblogged from i am a secondary emotion with 473 notes - Played 1,258 times
It's only a game.

Comic: orangelemonart
Post with 1,047 notes
Some sketches for the birthday babes
Photo with 415 notes
This has been such a lousy week with nonstop homework, I decided to make today's homework fanart just to make things a bit more fun for me. Actually it's fanart of a fanfic of a fanart of a fan playlist, but you get the idea.
This was the least homoerotic scene I could find in the entire fic. (Including the scene right before this with a water balloon. Way too man bro bukkake theater.)
Post with 341 notes
Photo with 357 notes
"Instead of the usual AU where John is the heir to the throne and Karkat is his knight, Karkat is the royal guy and John's like, his manservant or something."
Karkat is tiny and soft, John is tall, dark, and handsome- together they frick all over the castle.
Post with 124 notes
A few people asked for the frames from the April Fools animation as separate images, so they're posted here beneath the Read More!
Photo with 2,337 notes
I've been meaning to draw April Fools Day fanart since I joined this fandom.
Audio post with 994 notes - Played 6,490 times
If I can't go to your world when the game is through…
Post with 1,664 notes
What's more terrifying than your two ex's talking about you and laughing hysterically? Your two ex's talking about you and laughing hysterically with the hot new girl. 
Bonus level, this was a dream too, next time he wakes up and Rose is with them talking about his Oedipal tendencies.